Website
Matthew O'Hare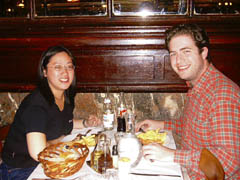 Our flight was with British Midland and we stayed at the 3* Hotel Concortel in the 8e arr. Both were friendly, clean, convenient, fairly well priced and we'd use them again. There aren't all that many good value restaurants near the hotel (though plenty of options if you want to buy a Cartier watch or Gucci gear - we didn't) but it is near the Champs Elysees and Arc de Triomphe, with the Madeleine Metro close by. Talking of the Metro, I would recommend buying a multi-day Metro pass or a carnet of 10 tickets as both are more economical and beat having to juggle with Euro coins every time you need to go somewhere!
Below are a few snaps I took with my little Creative PC-CAM600 web/digicam. The quality isn't great but they give you an idea of some of the highlights of the trip, just click on the thumbnail to view the full-size image (hover on the thumbnail for a brief description).
We've been to lots of other places too - we seem to end up going to a lot of weddings: Ravi's and Daniel's to name but two... but there are also the parties, such as my dad's 60th meal, Kingy's 30th, my 30th birthday, Dave the Dog's 5th and Kean and Charlotte's do.
In 2006 we visited Germany and Canada.
Paris
13 - 16 September 2002
All Images © 2002 - Matthew O'Hare